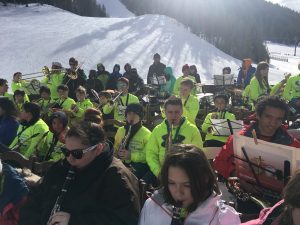 This spring, The Music Learning Foundation heads to the beautiful mountain resort of Crested Butte, Colorado for an outstanding Concert Tour and Ski Trip! The Spring Tour & Ski Trip is a great way for band members and their families to experience the thrill of traveling with the band and performing for new audiences. The tour will feature the Beginner Band, Concert Band, Studio Honor Band, and the Jazz Honor Band.
This will be Music Learning's 34th Spring Tour, and our 10th ski trip! This event is fun for all students and their parents. Many families make the spring tour a family event bringing along siblings and grandparents. Traveling on the road with a band offers students the opportunity to build lasting memories with their friends as well as experience the thrills and work involved in performing for large audiences.
There is so much to do on the Spring Tour! In addition to the social and musical benefits of the tour, we also sneak in some natural science lessons along the way. On our way to Crested Butte we travel we will see first hand the natural beauty of the Rocky Mountains.
Did we mention that we would also be skiing? Of course the main reason for the Spring Tour is to perform, but the students and their parents attend the Spring Tour for another reason too ITS FUN! In addition to concerts, participants will have time to make new friends and show off their musical skills to audiences in Colorado! After a busy concert tour, it is always fun to relax. We do that by spending 4 full days skiing in Crested Butte, CO! Dont miss this years Spring Concert Tour & Ski Trip in Crested Butte, Colorado!
Travel Logistics – two great options!
For the Music Learning Foundation 2020 Spring Tour & Ski Trip, all parents and students can choose between two modes of transportation!
This year, we will offer the option to fly with other band families from direct from DFW Airport to Gunnison, CO. Your airplane travel upgrade will include ground transfers from Gunnison to our lodge and back to Gunnison. Students attending the tour without an adult will not be able to fly – they will need to ride the bus.
Most participants choose to travel by chartered motorcoach from a central location in Dallas & Ft. Worth, to Crested Butte, CO and back. Our scheduled transportation this year is planned to feature comfortable seating, a DVD player on each bus, WiFi, and more. Because the Spring Tour & Ski Trip is a complete package, it is difficult to split up transportation from the rest of the tour. Our itinerary also features short stops to and from Crested Butte, so youll want to be with us on the tour to take advantage of all the concert performances and attractions that make up the Spring Tour & Ski Trip.
When we arrive in Crested Butte, CO, we will stay in a ski lodge on the mountain in the Crested Butte resort. Our lodge is steps away from the main ski lift (no shuttles)! Occupancy and package price is based on 4 to 5 people per room. If you are interested in a private room, that option may be available on a limited basis for an additional fee. The rooms at our hotel are comfortable for this occupancy. While in Crested Butte, 4 breakfasts and 3 dinners are included in the price for the Spring Tour. Registration is Available Today!
Everyone performs on the Spring Tour & Ski Trip. First year beginner band members, 2nd and 3rd year Concert Band members, and the Honor Bands will all perform multiple times throughout the band tour.
An important part of our annual Spring Tour is concert performance. In addition to our big concerts, members of the Jazz and Studio Band will also perform as small jazz ensembles at different times throughout the Spring Tour.
Lets Hit the Slopes! There will be plenty of time to go skiing in Crested Butte. This years trip includes ski rentals and lift tickets for 3 full days of skiing with the option to ski a 4th day too while we are in Colorado. With our hotel literally on the slopes, you should be able to ski and snowboard all day!
Dont know how to ski yet? No problem! You can easily add a full or half day ski lesson to your trip. After that youll be all set to ski the rest of the week!