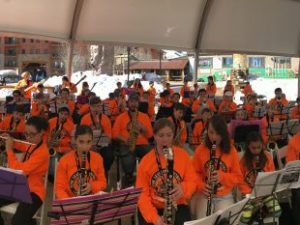 Spring Concert Tour
With so much uncertainty surrounding the Omicron Variant of COVID-19, too many variables remain outside of our control for us to sponsor the Spring Tour. The last thing we would want to do would be to put our students, their families, and our teachers in a difficult position far from home in the event someone were to feel sick. Thank you for your understanding.
We look forward to sponsoring a Spring Concert Tour in 2023.
The 2019 and 2020 Spring Concert Tour featured 3 full days of skiing/snowboarding in Crested Butte, Colorado with the option to ski for a 4th day, as well as performances at the base of the mountain and our 4-Star Ski-in / Ski-out Lodge.