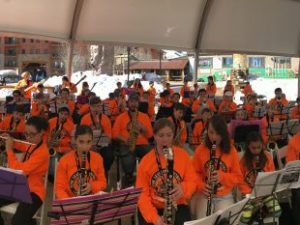 Spring Concert Tour
Travel to an exciting destination to perform a concert & enjoy spring break with your band members, directors, parents, and friends.
March 7 – 13, 2020
March 14 – 20, 2020
This year we will offer two trips to correspond with most schools' spring breaks.
---
The 2019 Spring Concert Tour featured 3 full days of skiing/snowboarding in Crested Butte, Colorado with the option to ski for a 4th day, as well as performances at the base of the mountain and our 4-Star Ski-in / Ski-out Lodge.
The 2020 Spring Concert Tour returns to Crested Butte, CO and offers nearly all-inclusive travel options by land and air.
Be a part of the most exciting band tour ever!
A Week of fun for the whole family
Many families choose to join us for the Spring Concert Tour. Travel via a group air reservation or chartered motor coach for a great trip.